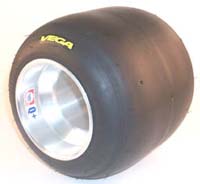 Performance:

The new Vega Oval tire, straight out of the wrapper, has tested to be as fast as or faster than the current spec tire that has been cut and prepped.

Excellent wear:

The special natural rubber formula has increased tire life over the current spec tire.

Resistant to heat cycles:

Testing has proven that there is little or no decrease in performance after several heat cycles.

This allows the karter to use the same tires over several weekends without a decrease in performance.

No need for tire cutting:

After extensive testing, the tire is manufactured with the correct thickness of rubber for maximum performance without cutting.

Set includes:
1ea 10.5 x 4.50-6
1ea 11.0 x 6.00-6
2ea 12.0 x 8.00-6
Wheels not included.